The exhibition features more than 100 prints by 42 American artists, providing an exciting overview of the development of printmaking in the United States since 1960. Many of America's greatest artists are presented, including Andy Warhol, Jasper Johns, Jim Dine, Ed Ruscha, and Kara Walker, all of whom have engaged with printmaking to create some of the most enduring images of recent years.
Visitors explore the expressive potential of printmaking in a variety of powerful images created over the past six decades – a dynamic and turbulent period in the history of the United States. Artists responded to social and political situations – from JFK's assassination, Apollo 11 and Vietnam to racism, gender politics and economic recession. They created original, ambitious prints – from the bright, colourful screenprints of the pop era to the monochromatic portfolios of minimalism to the increasingly technical experiments of more recent years. The exhibition offers an unprecedented opportunity to view a large selection of significant prints that capture the evolution of a nation and its art.
The exhibition begins with the vibrant prints of pop art when artists blurred the lines between fine art and mainstream advertising. They employed techniques associated with commercial printing, like screenprint and lithography, and incorporated images from newspapers, magazines and comic books. Impersonal, repetitive prints by Andy Warhol, cartoon-like images by Roy Lichtenstein, and the bright, jarring F-111 by James Rosenquist capture the essence of this movement.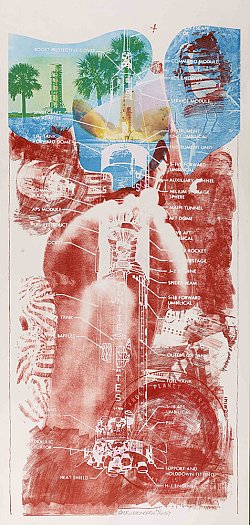 Following the turning point in printmaking marked by these pop artists, three major artists – Jasper Johns, Robert Rauschenberg and Jim Dine – explored the medium's creative possibilities. These artists collaborated with print workshops, especially Universal Limited Art Editions (ULAE) on Long Island and Gemini G.E.L. in Los Angeles, that provided the technical infrastructure, expertise and freedom to encourage creative innovation. Rauschenberg, for example, revolutionized the scale of prints with his monumental Stoned Moon series, made in response to the 1969 lift-off of the Apollo 11 mission that put man on the moon. His rocket-sized Sky Gardenfrom this series was the largest hand-printed lithograph to date.
The exhibition also explores the laid-back aesthetic of the West Coast with works from the 1970s including Ed Ruscha's Made in California whose orange coloured liquid letters suggest freshly-squeezed orange juice. Gestural prints by Cy Twombly and Willem de Kooning, and hard-edge geometric shapes by Ellsworth Kelly and Frank Stella show the persistence of abstraction among artists working in very different styles.
Minimalist and conceptual artists found printmaking to be an ideal medium both to explore the grid and to examine scale and proportion. Paring down form, texture and material to their essence, these artists often worked in series, making subtle shifts of colour and line. Judd's Untitled (1961-75), for example, contains the horizontal and vertical box-like shapes of his sculptures, but the rich texture of the woodcut departs from the smooth, industrial surfaces of his three-dimensional objects
Not all American artists abandoned the figure. In the 1970s and 1980s, many artists moved away from abstraction and minimalism and found new ways to represent people and spaces. Artists like Chuck Close, Susan Rothenberg, Robert Longo and Philip Guston reasserted the importance of the figure through innovative prints, ranging from large mezzotints and etchings to life-size lithographs, each in their different distinct styles.
Artists continue to study social and political issues through prints. Kiki Smith, for example, works with handmade papers to represent universal subjects and explores feminist themes including reproductive rights and the representation of women's bodies. Kara Walker investigates racial inequalities in complex prints that testify to her skill as a printmaker.
/www.fondationcustodia.fr/
Fondation Custodia, 121, rue de Lille, 75007 Paris | France